VENICE COMMISSION WELCOMES AMENDMENTS TO MOLDOVAN CONSTITUTION, THOUGH HAS SOME CONCERNS
24 march, 2020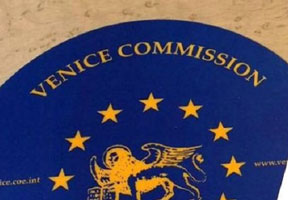 The Venice Commission of the Council of Europe and the Directorate General of Human Rights and Rule of Law consider that the draft Amendments to the Constitution of the Republic of Moldova in relation to the Superior Council of Magistracy (SCM) are generally positive and in line with the applicable international standards.
However, the Commission expressed serious concern about the manner in which four lay members of the SCM have been appointed by the Parliament - on the same day with declaring of the state of emergency in the republic.

The Commission conclusion says that the developed amendments could improve the independence, accountability and efficiency of the judiciary.

In particular, the Commission welcomes the removal of the probationary periods for judges; the appointment of judges of the Supreme Court of Justice by the president [which before was done by the Parliament]; the regulation on functional immunity at the constitutional level; the statement in the Constitution that at least half of the members of the Council would be judges elected by their peers and that the judge members of the Superior Council should represent all levels courts of law; the consultative role of the Superior Council in the preparation of the budget of the judiciary.

However, the document expresses serious concern about the procedure of appointing of new SCM members.

"The manner in which four lay members of the SCM have been elected seems to defeat the proclaimed aim of the legislative amendments of December 2019 to restore the public trust in the SCM. These four lay members have been elected in a controversial, non-consensual manner and for a full mandate of four years, which hampers the positive impact which the constitutional amendments ought to have brought", the Commission maintains.

In this connection, it recalled the crucial role of the SCM in ensuring that the Moldovan judiciary be both independent of political influence and not self-serving

The Commission, called on the Moldovan authorities to suspend the implementation of the legislative amendments of December 2019 and January 2020 and the nomination of four lay members of the SCM pending a thorough reform of the constitutional provisions on the SCM.

"These nominations should take place after the adoption of the constitutional amendments, in a procedure which ensures transparency and sufficient safeguards against politicization", the document says.

As Infotag has already reported, on March 17, the Parliament appointed 4 members of the SCM, which even managed to participate in the Council sitting, convened after that. The appointment took place hastily, on the same day when the Parliament declared the state of emergency in the country in connection with the coronavirus pandemic.