EUROPEAN COMMISSIONER AND FOREIGN MINISTER DISCUSS QUESTIONS OF COMBATING MISINFORMATION AND FAKE NEWS
24 march, 2020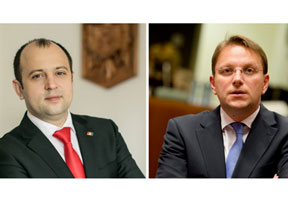 EU Commissioner for European Neighborhood Policy and Enlargement Negotiations Oliver Varhelyi and Moldovan Minister of Foreign Affairs and European Integration Oleg Tulea discussed questions of combating misinformation and fake news in the telephone conversation they held on Monday evening.

The interlocutors emphasized the importance of a correct public communication on issues pertaining to the Moldova-EU dialog and counteraction against misinformation and fake news. In that connection, Minister Oleg Tulea resolutely condemned the recent instance of appearance in the Moldovan mass media of a fake letter to a high-ranked European official, the Ministry wrote in its press release.

Oleg Tulea stated that the Government of Moldova continues to be committed to realization of the EU-Moldova Association Agreement and to reintegration of the country, and that the Republic of Moldova leadership will continue attaching a special attention to developing an intensive political dialog and profiled cooperation with the European Union.

The ministerial press release also said that the interlocutors attached a special attention to cooperation between the European Union and Moldova in combating the coronavirus pandemic.

As was already reported by Infotag, last week a local portal published an article saying that Party of Action and Solidarity (PAS) Chairperson Maia Sandu had allegedly addressed to EU Commissioner for European Neighborhood Policy and Enlargement Negotiations Oliver Varhelyi asking him to apply measures against Moldova. The article made reference to a letter, which eventually turned out to be a fake. A loud scandal broke out, and Maia Sandu stated an intention to seek justice in the court. European Union representatives stood up with a strong reaction against the fake story.

Commissioner Oliver Varhelyi stated that politically motivated misinformation campaigns, like the one that happened last week and was aimed against the European Union, "are impermissible, for they undermine our relations".