MOLDOVAN AUTHORITIES ARE PLUNGING INTO SELF-ISOLATION – MARK TKACHUK
26 march, 2020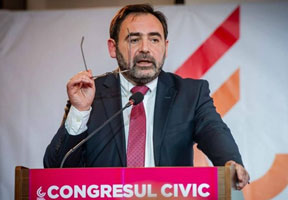 Historian and anthropologist Mark Tkachuk, an active member of the Executive Committee of the Collective Action Party "Civilian Congress", presumes that with the decision to impose de facto censorship on COVID-19 information, "the Moldovan authorities are in fact self-plunging into self-isolation".

Speaking with an Infotag correspondent, Tkachuk remarked that in this particular case, the Moldovan authorities have definitely "mixed up genres".

"A state of emergency is imposed to render assistance to the people, to civil society, and not at all for making oneself shielded from deserved criticism and constructive proposals", said Mark Tkachuk.

In his opinion, the measure taken by the authorities on Wednesday "is unwise, to put it mildly. Our authorities are sinking into self-isolation. Now they are hostages to the news they only produce by themselves".

On Tuesday night, Mark Tkachuk participated in a live program on the TVC21 channel together with political scientist Valeriu Ostalep, a former Deputy Minister of Foreign Affairs and European Integration. They discussed the COVID-19 pandemic in the world, the current situation in Moldova, and how the Moldovan Government is managing this threat. The programs of this television channel are not transmitted live in the Internet, but are placed on YouTube right after their live casting. This time, however, the moderator said that for some technical reasons, the program would not be placed on the Internet and that there would be no traditional review on the television. The Civilian Congress perceived the situation as a deliberate action by the authorities, who are "thus putting unpunished pressure on the mass media".