PRESIDENT DODON BELIEVES ACC SHOULD REVISE ITS DECISION
26 march, 2020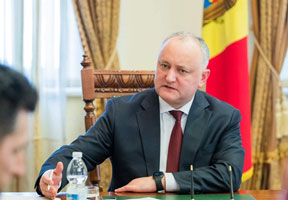 Moldova President Igor Dodon believes that the Audiovisual Coordinating Council should revise its decision on media restrictions.

The head of state appeared in a live program cast on the Moldova-1 public television channel on Wednesday night and said: "I guess the decision was insufficiently thought. It brings about excessive limitations. We are not going to restrict the press freedom. Therefore, to my mind, the Council must revise this decision".

As was already reported by Infotag, on Wednesday the Audiovisual Coordinating Council Chairman Dragos Vicol signed a Decision on restrictions in the electronic mass media. The document said that in the state of emergency period, all program hosts, moderators and editors working on Moldovan TV channels must give up expressing their personal opinion and frivolous formation of free judgments concerning the coronavirus pandemic at the national as well as international level.

"The only trustworthy, wholesome and objective source of information on the COVID-19 issue are Moldovan governance bodies and international organizations (the National Commission for Emergency Situations, the Government of Moldova, the Ministry of Health, Labor and Social Protection, the World Health Organization)", maintained the Audiovisual Coordinating Council, substantiating its Decision with "the need to ensure a maximum-possible accuracy and full correctness of the information that must come from reliable sources, with an authentic and impartial approach to events".