PREMIER CHICU THANKS FOREIGN PARTNERS FOR HELP TO COMBAT COVID-19
30 march, 2020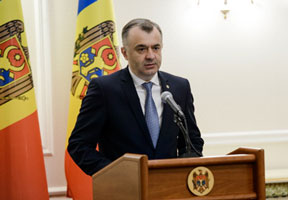 Moldovan Prime Minister Ion Chicu expressed gratitude to the foreign partners that are rendering assistance to Moldova in its struggle against the coronavirus infection.

Chicu wrote on his Facebook page: "A friend in need is a friend indeed. This ancient truth has now become as topical as perhaps never before. We can see several examples of how friendly countries are helping Italy in the current time of great ordeals. Moldova, like whole Europe, is in danger now. But Moldova also has friends – friends in need".

In his words, these days many international organizations and countries of the world have already rendered support or/and expressed preparedness to help Moldova in its struggle against COVID-19.

"The World Health Organization and the United Nations Organization as a whole, the International Monetary Fund and the World Bank, the European Bank for Reconstruction and Development and the Council of Europe Development Bank (CEB) – we all have been in close communication for receiving material and financial support. The WHO has provided valuable tests, equipment and consultations to help us oppose to this disaster. We are grateful to the peoples and governments of China, Switzerland, the Russian Federation and the United States for the help they have already provided to us and for the assistance yet to come", wrote the Moldovan Prime Minister.

Ion Chicu particularly highlighted Romania, whose Government made an exception for Moldova and permitted it to import medicines from Romania. According to him, Bucharest is also considering the possibility of shipping to Moldova a consignment of anti-virus medications so badly needed in Romania itself.

The Premier stressed that assistance for Moldova will come also from the European Union.

"We have talked with EU Ambassador Peter Michalko. I know that the European Union will soon announce its rendering a package of assistance for Moldova. Hundreds of Moldovan and foreign companies and tens of thousands of citizens are helping us materially and financially. We are receiving backing also from the most devoted citizens, who help us to raise the society's awareness about the great hazard of the coronavirus. Our deep gratitude to all of them", wrote Premier Ion Chicu.