ROMANIAN MEP MAINTAINS THAT EU HAS SKEPTICAL ATTITUDE TO MOLDOVAN AUTHORITIES
01 april, 2020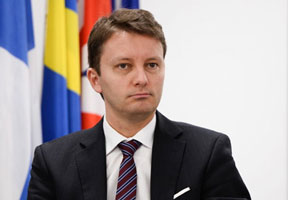 Siegfried Muresanu (Romania), a Member of the European Parliament from the European People's Party (EPP) and Head of the EP delegation for the development of relations with Moldova, has stated on the local television that the European Union has a skeptical attitude to the incumbent leadership of Moldova [the coalition of the Party of Socialists and the Democratic Party].
Muresan said that Igor Dodon won the 2016 presidential election by using an anti-European discourse, and that the Democratic Party participated in the dismissal of two pro-European Governments, in particular the Government of Maia Sandu, "which did a lot of good things for Republic of Moldova citizens, including de-blocking of the European Union's macro-financial assistance".

"That's why on the European level, the attitude to the incumbent Moldovan authorities is skeptical. They are a team of two political parties that have demonstrated their being anti-European. But the Moldovan authorities, like any others, will be judged by the European Union according to achieved results", said Siegfried Muresan.

The MEP called on Moldova citizens to carefully watch the authorities' actions because in times of crises, irresponsible politicians use all available levers for achieving yet a greater power.

He stressed that the European Union will be attentively following everything taking place in Eastern Partnership countries, including indeed Moldova.

"The European Union is tackling the coronavirus problem, but is not forgetting about other spheres of activities, either. We do not forget about the reform of justice, political evolutions, state management and other", said the European parliamentarian.