MOLDOVA PREPARING TO CoV INCIDENCE GROWTH – PRESIDENT DODON
01 april, 2020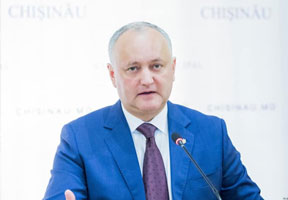 The Moldovan government is preparing to a growth of the number of coronavirus-infected citizens, President Igor Dodon stated on Wednesday during his meeting with the leadership of the Chisinau Primaria [city government] and the Heads of Municipal Departments, services and enterprises.
"The situation will not improve in 1-2 weeks. Later on, the number of infected people may go up, so we must get prepared to a much more complicated situation to tackle", said the head of state.

"We are considering the opening of additional quarantine centers and regional laboratories in Balti, Cahul, Comrat, Edinet and in the Transnistrian region, as well as arrangement of extra beds in available hospitals", said the President.

Presently, the Government is unfolding a 'field hospital' in one of the MoldExpo Center pavilions. It will have an area of 5,000 square meters. After the meeting, the President and Chisinau Mayor Ion Ceban visited this facility, where equipment and everything necessary is being installed by the military.

"It's only by resolute joint efforts that we can withhold this and other analogous challenges. One should not forget that Chisinau is a place with the highest level of CoV infection risk: the capital city is home to nearly one million people – one-third of the country's population, plus numerous visitors. And a considerable part of infected patients are delivered and treated here", said the President.

Speaking on the local television on Tuesday night, Minister of Health, Labor and Social Protection Viorica Dumbraveanu stated that the pandemic spread situation in Moldova may be even worse than doctors are forecasting presently. Initially, the Moldovan authorities were preparing to have up to 2 thousand patients, but now they are preparing to have up to 3 thousand. However, the World Health Organization warned recently that Moldova might have up to 28 thousand infected citizens.