MOLDOVA WAS NOT READY FOR CORONAVIRUS ATTACK – RENATO USATII
02 april, 2020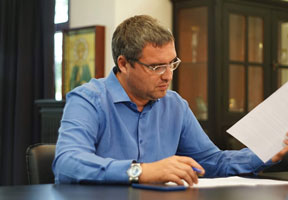 Moldova turned out to be not ready for the coronavirus attack and the Government appears to have no resources to render full-fledged support to the health sector, the population or businesses, believes Renato Usatii, leader of the Partidul Nostru (Our Party, OP) and the Mayor of Moldova's second largest city of Balti.

Usatii wrote in social networks that the decades-long experimenting "to optimize" the national health system has actually killed this very system, so now it is trying with great pain to render at least a minimal help to CoV patients and 'suspects'.

The opposition politician presumes that the real scale of the pandemic is underestimated because there is no possibility to conduct a massive population testing.

"Turning a blind eye to the problem's real extent, the authorities are 'promising' now 500 patients, then 2,000, then 28 thousand. The budgets of all levels are going to pieces. The whirlpool of the crisis is sucking in whole sectors of economy, thousands of large, small and medium enterprises, hundreds of thousands of workers. The State has thrown its compatriots abroad to the mercy of fate. Return home of the people who have found themselves in a desperate situation without jobs, roofless, without money for staying abroad (and there are tens of thousands of them) is being ignored [in Chisinau]", believes Renato Usatii.

"And just imagine, in such conditions some politicians are continuing their election campaigns, behaving as if the state of emergency will last forever", wrote Usatii.