IGOR DODON STATES THAT NOW IS NOT THE MOMENT FOR THINKING ABOUT ELECTIONS
03 april, 2020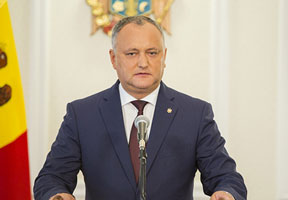 Now it is not the time to think about presidential elections [due next November], Moldova President Igor Dodon stated today in the course of his traditional weekly live Q&A communication with citizens on his YouTube channel and social networks held every Friday morning.
"Presently we are not thinking about the elections. This is not our priority number one, mine or the Government's", said Igor Dodon.

He admitted, however, that elections cannot be held in the state of emergency conditions.

"The present emergency has been imposed until May 15. Of course, it would be good to lift it earlier than this, but I don't think there will be conditions for this. I strongly hope the emergency won't have to be extended. Such decisions are taken only by parliament. We hope that in the middle or end of May the pandemic will go down", said Igor Dodon.

In his words, the World Health Organization is warning that there may be a new outbreak of the coronavirus next autumn.

"We cannot know what will be. If this really happens, we will have to impose a state of emergency once again. In such case, the presidential election may be postponed. But now we all should be thinking not about elections but about how to overcome the current situation", stressed the head of state.

Igor Dodon called the opposition to cooperate with the authorities to overcome the pandemic instead of preparing for the election.

He condemned the opposition who strongly criticized the Government for its adopting – under its own responsibility, without approving in parliament – the Law on taking certain actions to back the population and economic activities in the state of emergency period. In his opinion, such procedure of adopting laws in the conditions of a state of emergency is the most suitable.

"What the opposition did was so unpleasant. The Party of Socialists had stayed in the opposition, too – for 10 years, but we had never behaved like that", said the President.