DA PLATFORM TO CHALLENGE GOVERNMENT'S ANTI-CRISIS MEASURES IN CONSTITUTIONAL COURT
06 april, 2020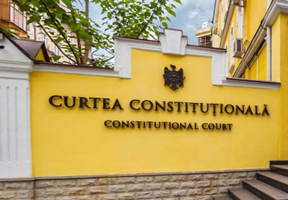 The "Demnitate si Adevar" [DA, "Dignity and Justice"] Platform party will challenge several proposals from the package of anti-crisis measures in the Constitutional Court, said Deputy Speaker, Chairman of the DA Platform faction Alexandru Slusari at the Monday's briefing.

He reminded that the law was approved last week by means of taking by the Government of responsibility before the Parliament and entered into force within 72 hours, as no one has called a vote of no confidence in the Government.

Slusari stressed that the party is going to challenge only the points, which may turn into new shadow schemes against the background of combating the pandemic.

"This concerns the three provisions: the activity of duty-free shops, the amendments to the law on tobacco products and the implementation of the new taxation mechanism (on the mining)", the Deputy Speaker said.

According to him, the reasons, presented by Deputy Premier, Minister of Finance Sergiu Puscuta have not convinced the MPs of the need of these measures.

"Mr. Puscuta said that the measures on duty-free are aimed at protecting domestic producers [from double taxation]. Indeed, the law has a point which may be interpreted in such a way. However, there is another point, which says about the reimbursement of excise taxes for the imported goods. Here we can suppose that the goods, sold at the entrance in Moldova in duty-free, for example cigarettes, may be exempted from excise tax. If the previous Government decided to prohibit the selling of excise taxes in duty-free at the entrance in the country (which is a Moldovan know-how), the law adopted by the current Government opens this Pandora's Box again", the MP said.

The address of MP Dinu Plingau to the Constitutional Court will replace the vote of no confidence in the Government to cancel the proposed measures.

"These three provisions have nothing in common either with the healthcare system, or the actions in conditions of the crisis in economy. On contrary, some of these may cause economic damage", the MP said.