RENATO USATII READY TO PAY FOR CHARTER FLIGHT TO BRING PROTECTION MEANS FROM CHINA
08 april, 2020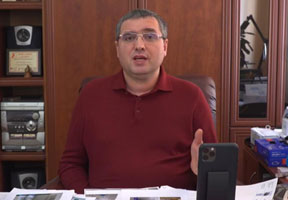 Partidul Nostru [Our Party] leader, Balti Mayor Renato Usatii said in a video address on Tuesday that he is ready to pay for a charter flight to China to bring means for personal protection from coronavirus.

He said he studied the market and came to a conclusion that Moldova is buying masks, protective costumes, respirators, gloves and other means for protection from the Covid-19 at prices, which are double or even triple of the one these materials may be bought in China or other countries.

"I have organized a charter flight Beijing-Chisinau, it is about a plane that can bring up to 100 cubic meters of vital cargoes. Last week, the same plane brought similar goods to Romania. The cost of this flight will account for approximately 210 thousand euros. I understand that organizing and paying for this flight from my money, I can save thousands of doctors and ordinary people in Moldova and will help doing everything that many people to get protection from the infection", Usatii said.

He called on economic agents to refrain from speculating on protection means and expendables, necessary for protecting from coronavirus, stressing that he is ready to bring goods they ordered by this plane.

"I hope they understand my proposal correctly. I provide this plane at my expense and for free. Economic agents, I know you have dozens-hundreds of tones of such cargoes that got stuck abroad. I propose you to choose the most necessary and bring it to Moldova, moreover that there is need for a special permit from the Commission for Emergency Situations, as well as an exemption from the VAT. I will transport the cargoes for free and thousands of doctors will get quality equipment, protective costumes, respirators and gloves from some of the world's best producers. I only ask you to refrain from filling that plane with low-quality goods that were imported in the country by many until now", Usatii called.