IF IT IS DECIDED THAT PRESIDENT BE ELECTED IN PARLIAMENT, RULING COALITION WILL HAVE TO BRIBE SEVERAL DEPUTIES – VORONIN
08 april, 2020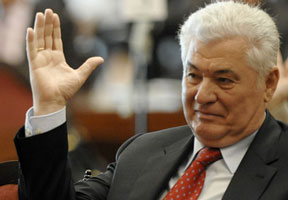 Ex-President of Moldova Vladimir Voronin, Chairman of the Communist Party (MCP), presumes that if it is really decided to elect president in parliament, the governing Socialist/Democrat coalition will have to resort to bribing several deputies.
Commenting on the idea put forth last weekend by Honorable Chairman of the Democratic Party Dumitru Diacov – to return to electing the head of state in parliament, Voronin said on the local television on Tuesday night: "Diacov never talks without thinking", and reminded that President Igor Dodon had admitted last month that if the state of emergency is extended, the 2020 presidential election may be postponed.

"The Dodon's statement coincides with what Diacov said: what's the use of spending millions in the current situation [of the coronavirus crisis] and of attracting a considerable number of citizens all over the country, if it is possible to act easier and cheaper – by electing president in parliament? But for this, it is necessary to have minimum 61 votes, whereas the ruling coalition has only 59 MPs. Accordingly, a temptation arises to bribe two deputies. In the current coalition, there are deputies who know how to buy votes. They had already bought MPs, including from among Communists. And these experts will certainly buy the desired number of deputies, may be they have already bought. President is elected in parliament by secret ballot", reminded Voronin, hinting that this convenience makes people braver.

The ex-President said that in 2009, when the Communist Party had 60 MPs in the 101-member Parliament of Moldova, the MCP desperately needed to find only one, 'golden vote' to secure the election of a new Communist president [Zinaida Greceanii], "but even in such a crucial situation we did not address to anybody, for we wanted to do everything according to law and conscience". [As a result, the presidential election failed, and a snap parliamentary election was organized.]

"The current coalition may stand up with the initiative [to elect president in parliament] at any moment. When the country starts coming out of the coronavirus crisis, they will simply say that the money required for the nation-wide election of president should be better used for other vital needs", presumes Vladimir Voronin, who held the presidential post in 2001 through 2009.