CIVILIAN CONGRESS NAMES CRIMINAL CASE AGAINST ITS LEADER "PLAHOTNIUC'S FAKE ACTIVELY FANNED UP BY PARTY OF SOCIALISTS"
08 april, 2020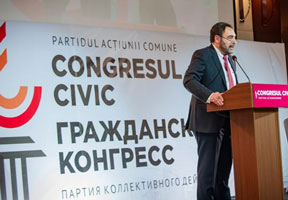 The Collective Action Party "Civilian Congress" (CC) has named the criminal case, started several years ago against CC Executive Committee member Mark Tkachuk "a Plahotniuc's fake being actively fanned up by the Party of Socialists".
The Civilian Congress wrote in a special statement today that the criminal case on charges of tax evasion was started against Mark Tkachuk by Prosecutor Adriana Betisor [then-Deputy Head of the Anti-Corruption Prosecution Service] in September 2017.

"Until very recently, Mark Tkachuk had not been notified about either the existence of this criminal case as such or the contents of possible charges. Now it has become clear that the case was fabricated for "legitimate" carrying out of operative actions against Tkachuk – tapping and shadowing. But as a matter of fact, these actions were done for several years because all these years Mark Tkachuk was remaining an active public critic of the Plahotniuc regime and of Plahotniuc's political partner Igor Dodon. Presently, after Mark Tkachuk has at last read the accusations brought against him, it has become perfectly clear to him and to us that the case in question is a sheer fabrication from its first word to the end", wrote the CC Executive Committee .

Its members are convinced that the recently renovated Prosecutor General's Office is conducting the case impartially, in full accordance with the law, and is undertaking all necessary actions required to establish the truth.

"The Socialists' long-lived monopoly in the conventionally Left political segment and their simulation of struggle for social justice are coming to an end. The all-mighty oligarch's patronage has vanished together with the oligarch, and Socialists have not been noticed as defenders of the Moldovan society' social rights. Socialists have practically nothing to report about the years of their so-called presidency or about the period of their 'constructive opposition' to Plahotniuc. Now they cannot conceal that they have become a party of very rich people, of the owners of luxury and elite real estate, a party of cynical and venal deputies – without a political position, without principles and without conscience. No wonder that their only and devoted ally is the criminal oligarchic group called the Democratic Party. It was precisely the DPM to whom the Socialist gave all posts in the new Government. With this very party, the Socialists share their criminal profits and are designing new criminal schemes even in the conditions of the ongoing pandemic crisis. And all this cannot be concealed, either", said the CC statement.