MOLDOVAN FOREIGN MINISTER, EU AMBASSADOR DISCUSS MEASURES TO OVERCOME CoV CRISIS
09 april, 2020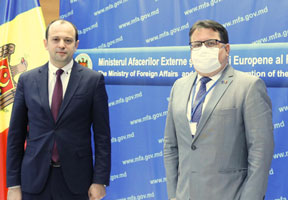 The interaction of Moldova and the European Union to overcome the coronavirus pandemic crisis was discussed on Wednesday between the Moldovan Minister of Foreign Affairs and European Integration, Oleg Tulea, and Ambassador Peter Michalko, the Head of the European Union Delegation to the Republic of Moldova.

The Minister informed his European colleague about the measures being taken by the Ministry to bring Moldova citizens home from European Union countries and about the problems arising in this sphere due to border closure by some states.

Oleg Tulea expressed gratitude for the support rendered by the European Union to the Moldovan healthcare system and for the assistance in overcoming pandemic consequences for the national economy.

The Foreign Minister said Moldova remains committed to Euro-integration and to implementation of the EU-Moldova Association Agreement, and stressed that Moldova will continue its efforts to promote and improve dialog with the European Union.

The interlocutors discussed the Moldova-EU dialog agenda and attached a particular attention to the reforms which the Moldovan leadership has to implement as a matter of priority.