EU DELEGATION HEAD STANDS AGAINST USING CRISIS SITUATION IN POLITICAL INTERESTS
09 april, 2020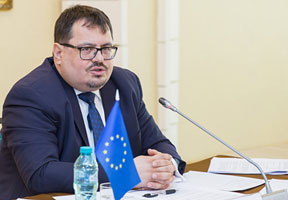 The current CoV crisis situation may not be used for achieving selfish political goals, Ambassador Peter Michalko, the Head of the European Union Delegation to the Republic of Moldova, stated on the local television last night.

Commenting on the incumbent authorities' critical sayings against the previous Government of Moldova, the diplomat said that most of such statements contain actually no real estimates and are made mostly for other goals of a private character.

"Now is not the time for this. What is needed now is unity. Various political factors should be forgotten for the sake of rendering support to the society in its overcoming the crisis. This is very important. In many other countries, politicians are proving that they understand this very well. It is necessary to overcome the crisis, and it should not be aggravated with political relations that ought not to be placed above public interests", said Ambassador Peter Michalko.

In his words, European Union countries are trying to act team-like to overcome the coronavirus crisis.

"Assistance was rendered to Moldova, too, practically immediately. Many European companies, present on the Moldovan market, Poland, Romania and we, acting through our projects, offered money that can be used for immediate actions in the anti-virus struggle. Presently, solidarity in the struggle against the common danger is of key importance", said the EU Delegation Head.