PRESIDENT DODON CALLS ON CHRISTIANS TO REMAIN AT HOME ON EASTER
09 april, 2020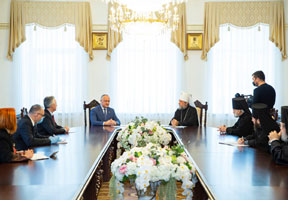 President Igor Dodon called on Moldovan believers to stay at home and refrain from attending churches on Easter holidays. He wrote on Facebook that he discussed this issue with leadership of the Metropolitanate of Chisinau and All Moldova.

"Together we tried to find optimal solutions so that religious services in the period of Easter holidays were accessible to each Christian. Measures on observing the distance, aimed at protecting our health and life during the pandemic, will remain valid for the period of holidays, thus we recommend to churchgoers to stay home. The religious services will be broadcasted online on public television and radio, thus I call on private TV channels and radio stations to transmit these broadcasts as well, so that all Christians to be able to watch them", Dodon wrote.

He also wrote that unlike the initial plans, the Holy Fire from Jerusalem will be brought to Chisinau this year.

"I informed Metropolitan Vladimir of Chisinau and All Moldova that in response to my call, many believers who have such possibilities, united their efforts so that the Holy Fire to be brought to our country this year as well. I thanked the Metropolitanate leadership for understanding and care about our people. I also expressed gratitude to all those, who will contribute to ensuring the broadcasting of religious services and transportation of the Holy Fire for all people of Moldova", Dodon wrote.