PRESIDENT IGOR DODON CLAIMS HE HAS ONLY ONE – MOLDOVAN CITIZENSHIP
10 april, 2020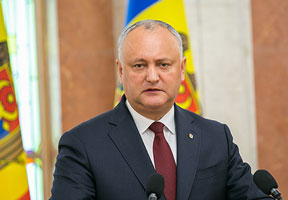 President Igor Dodon has dispelled assertions concerning his having the citizenship of another country. Communicating with citizens online on Friday, he refuted the information disseminated recently by Renato Usatii, leader of the opposition Our Party and the Mayor of Moldova's second largest city of Balti, who stated that Dodon received the foreign citizenship by using an accelerated procedure, while being already the President of Moldova.
"I have never had and may not have the citizenship of another country. It is my conviction that a president standing at the head of his or her country, just may not have additionally the citizenship of a foreign country. A President of Moldova may be a citizen of only Moldova", emphasized Igor Dodon.

In his words, opposition politicians are deliberately polluting the public space with such gossips to distract the Government and society from real problems.

"They are trying to drag us into useless polemics in the hope to distract us from doing a real job – managing of the current coronavirus crisis. They are acting according to the principle "The worse – the better". For them, it will be only in their political, electoral interests if Moldova has more virus-caused deaths. They are irritated at seeing that the Government keeps the situation under control and is managing it quite well. So, don't pay attention to all insane politicians and their sayings", said Dodon.

Answering a caller's question concerning the initiative of some parliamentarians to put off the 2020 presidential election and to return to electing the head of state in parliament, Dodon reminded that he had always stood up for electing a national leader by the whole nation.

"This is my principal stance. I have always stood up for national elections of the president – like an absolute majority of the population of Moldova. So, I guess we should continue holding direct elections of heads of state", said Igor Dodon.