​PRESIDENT DODON SAYS THAT MOLDOVA MAY HOLD AN EARLY PARLIAMENTARY ELECTION
20 may, 2020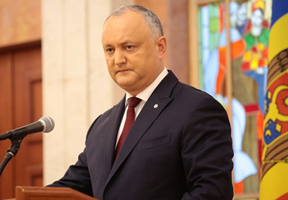 President Igor Dodon is not ruling out the possibility of a snap parliamentary election in Moldova.
"The situation in the country is complicated. The Plahotniuc mafia is working to remove the Chicu Government. I hope that all political forces understand this", he said on the local television on Tuesday night, stressing that in case of a government resignation, he will immediately enter into negotiations with all parties.

"I mean the Party of Socialists (PSRM), the Democratic Party, the right parties of Maia Sandu [PAS] and of Andrei Nastase [DA Platform]. As for the Pro Moldova group and the Ilan Shor Party, there's nothing to talk about with them. I shall not talk to those who have stolen a billion dollars from Moldovan banks and are now buying deputies from other factions with that very money. We have to decide: either we form a national salvation government to cleanse the country off these gangsters, or we go for a snap election", stated the President.

In his words, it is possible to agree upon the following scenarios: "We hold a presidential election this upcoming autumn, after which we dissolve the Parliament and hold a snap election. Or we combine the presidential election with a snap parliamentary election".