MOLDOVAN PREMIER'S STATEMENT STIRS UP SCANDAL IN RELATIONS WITH ROMANIA
25 may, 2020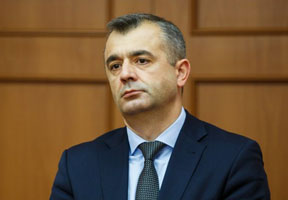 The statement made by Moldovan Prime Minister Ion Chicu has caused a scandal in relations with Romania. The Moldovan Ambassador Extraordinary and Plenipotentiary to Bucharest, Mihai Gribincea, was summoned to the Romanian Ministry of Foreign Affairs, Romanian Foreign Minister Bogdan Aurescu phoned to his Chisinau colleague Oleg Tulea, and the Romanian Ministry of Foreign Affairs stood up with a Statement.
In the document, published on the ministerial website on May 23, Chicu's statement was called unacceptable, defaming Romania, and demonstrating disrespect for Romania. The Romanian MFA expressed its resolute disagreement with Prime Minister Ion Chicu's sayings.

"Implementation of reforms and realization of the EU-Moldova Association Agreement is not only a commitment undertaken by the Republic of Moldova, but also a guarantee of the prosperity of its citizens", wrote the Romanian Ministry of Foreign Affairs.

On May 22, Prime Minister Ion Chicu strongly criticized Siegfried Muresanu (Romania), a Member of the European Parliament from the European People's Party (EPP) and Head of the EP delegation for the development of relations with Moldova, who had stated not long before that "the Republic of Moldova's government does not implement reforms and turned out to be unprepared for the coronavirus-caused crisis".

Ion Chicu retorted harshly to Muresan's sayings, asking him what Siegfried Muresan had personally done to reduce the COVID-19 morbidity in Romania.

"I am watching these Romanian 'guys' sheltered by the European structures that impose their patronage upon us. But what have you [Muresan] done for your country moaning with corruption – the highest one in Europe? In your country, in the judet [district] of Suceava alone, the number of COVID-19 patients makes a half of the morbidity in my country. For us, it is very important to know the opinion of our citizens about the Moldovan Government's work. And only criticism by Moldovans matters for us. The coordinated attacks by certain personages, pretending to be Republic of Moldova's advocates, may produce an impression only on their patrons, while on me – none", stressed Ion Chicu.