IGOR DODON DOES NOT BELIEVE HIMSELF THAT CHICU GOVERNMENT WILL SURVIVE - SLUSARI
26 may, 2020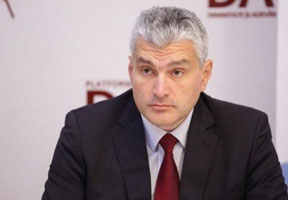 President Igor Dodon does not believe himself that the Government of Premier Chicu will last long, believes Alexandru Slusari, Deputy Chairman of the political party called Platform "Demnitate si Adevar" [DA, "Dignity and Justice"].

He wrote in social networks that the authorities have lost "the last gram of responsibility for the situation in the country", and that President Dodon "is using every lie for the sake of winning a second presidential mandate".

Slusari maintains that President Dodon lies when he maintains that the epidemiological situation is improving in Moldova.

"Look, a month ago, when the Parliament was considering amendments to the State Budget, we proposed to repay an allowance of 1,000 lei to pensioners, and we were accused of populism then. Today, Dodon is proposing that very allowance to pensioners [700 lei]", wrote Slusari.

He also criticized Dodon's proposal to render support to businesses, for he is convinced that the support will be available only for "enterprises-favorites, which have not actually suffered of the pandemic-caused economic crisis".

"Dodon's statements are exclusively of an electoral character, are rambling and mendacious. He looks to be not sure himself that his government may hold long", stated the opposition politician who incessantly criticizes the President and Chicu Government.