PRESIDENT DODON SAYS MOLDOVA IS ON BRINK OF POLITICAL CRISIS
29 june, 2020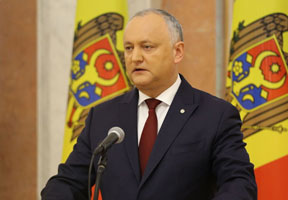 Moldova is on the brink of a political crisis, President Igor Dodon stated in the course of his weekly online Q&A communication with citizens held on Friday.

"The incumbent Parliament is practically nonfunctional. There are so many questions to it. Deputies are easily bought, so they migrate from one faction to another. As a result, this Parliament no more represents the will of Moldova citizens. Accordingly, a snap election is becoming inevitable, which I would only welcome ", said Igor Dodon.

"I have invited the Right parties to sit at negotiating table. I am not proposing to create new coalitions, or to negotiate conditions, or jointly form a new government. I propose to discuss our further actions - step by step prior to a snap election, and to discuss all this with parties, and not with those who run from faction to faction", stressed Igor Dodon.

The President called on the Right-wing parliamentary organizations - the Party of Action and Solidarity and the DA Platform party - to take a decision at last.

"We should not mark time any more, should not wait for something, rejoicing like kids in a sand box and applauding each time Plahotniuc buys another deputy thus further undermining the parliamentary majority. We have to take a manly decision. I realize that they [Right parties] feel it is so hard for them because they are not mature politicians yet. But they should not wait and should not try to form a government together with the Plahotniuc-bought deputies who had a finger in the one-billion-dollar bank fraud", said Igor Dodon.

Then, addressing to the PAS and DA Platform leaders, Dodon warned: "If you further wait, you will see that Plahotniuc will start buying up already your deputies, one after another, until he ensures a majority of 51 MPs for himself. Presently, he already has 27-28 deputies in the Parliament". In his opinion, it would be ideal to reach a consensus between the parties and to hold an early parliamentary election simultaneously with the ordinary parliamentary election on November 1.

"Well, we are waiting for a Constitutional Court's answer. But most probably, it will be impossible to hold the two elections on one day. This means that after the presidential election in November, we will have to start preparation for a snap parliamentary election in February-March 2021", said President Igor Dodon.