BANK FRAUD INVESTIGATION WILL BECOME FOR MOLDOVA A TEST OF TRUST IN STRUGGLE AGAINST CORRUPTION SPHERE - LUC DEVIGNE
01 july, 2020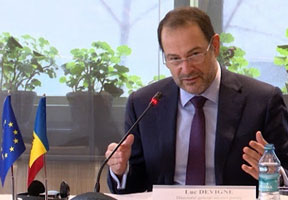 The investigation of the one-billion-dollar bank fraud in the Moldovan banking system will become for the republic a test of trust in the sphere of struggle against corruption, believes Luc Devigne, Director, Deputy Managing Director Russia, Eastern Partnership, Central Asia and OSCE at the European External Action Service (EEAS).

He said in the course of the online debate called "The Eastern Partnership after 2020" held on Tuesday that Moldova could well achieve more in reforms, if only the republic had more stability because not all of its several governments lately were oriented to reforms.

Luc Devigne said that the Eastern Partnership's development after 2020 will be based on flexibility that will permit to recover after the pandemic-caused shock and on movement in 5 directions - economy, supremacy of law, transformation towards a green economy, digitalization, the building of a fair society.

Luc Devigne stressed that Moldova's priorities have not changed: these are the justice reform, struggle against corruption and de-politicization of state institutions.

"And, certainly, the bank fraud investigation, going on since 2014. I don't know if it is possible to earn international trust merely with words about the struggle against corruption in Moldova - without bringing anybody to responsibility for the fraud of such a great scale", said Luc Devigne.

In his words, the European Union wants to see concrete results "because the trial of one of the chief defendants has been adjourned for more than 50 times, and no money has been returned to Moldova".