STEFAN GATCAN, WHO LEFT SOCIALIST FACTION YESTERDAY, TENDERS RESIGNATION FROM PARLIAMENT
02 july, 2020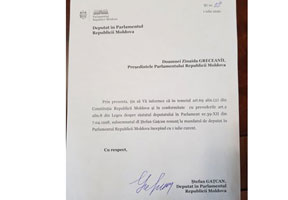 Stefan Gatcan, who announced on Tuesday his departure from the parliamentary Socialist faction, has resigned from parliament today, faction chairman Corneliu Furculita stated to journalists on Wednesday, and published in social networks Gatcan's resignation application sent to Parliament Speaker.
On Tuesday, Furculita stated that "For his treachery, Gatcan received minimum 1 million euros", and that he allegedly had convincing evidence in this regard, and that he had even lodged a Statement with the Prosecutor General's Office.

On Wednesday, Corneliu Furculita told the press that Gatcan had participated in a meeting of the Party of Socialists (PSRM) faction during which he announced his resignation from the Parliament but stated he wants to preserve his membership of the PSRM team.

As recently as on June 30, Gatcan criticized the Socialists, stated his disagreement with the policy waged by the PSRM, and announced his joining the parliamentary group of the Pro Moldova Party (PMP).

On Wednesday, PMP deputies stated that Stefan Gatcan had changed his yesterday's decision under the PSRM's pressure.

Stefan Gatcan's resignation is not changing the alignment of forces in the Parliament. His vote was the last one which was ensuring the presence of the Socialist/ Democrat majority in the forum. Instead of him, no other Socialist will come from the PSRM electoral slate because Gatcan was elected from a single-member constituency and not by the party slate.