RENATO USATII MAINTAINS SOCIALISTS HAVE TAKEN GATCAN OUT OF MOLDOVA
02 july, 2020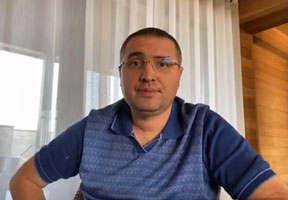 Renato Usatii, leader of the Partidul Nostru (Our Party, OP) and the Mayor of Moldova's second largest city of Balti, maintains that the Socialists applied measures of physical influence on ex-MP Stefan Gatcan and brought him out of Moldova.
Speaking on the local television on Wednesday night, Usatii stated that Gatcan was strongly pressed on during the emergency meeting of the PSRM parliamentary faction, for which he was forced to come on Wednesday morning. After the meeting, Gatcan wrote an application of his stepping down from the Parliament.

"By now, Gatcan has been taken out of Moldova. The 'exportation' operation was carried out by the Information and Security Service (ISS) that obeyed President Igor Dodon's order. Gatcan was brought to a Chisinau suburban vineyard, where he was forced to video-record an address to citizens and to say that he was OK, but he would be out of contact for some time. All that was organized by Igor Dodon", stated Renato Usatii.

"Discontent is brewing in the parliamentary Socialist faction. Practically all PSRM deputies receive salaries in envelopes. They understand that Dodon conceals a part of the money coming from Moscow for funding the PSRM. Discontented deputies are ready to leave the Socialist faction. To curb this trend and show force, Dodon organized that demonstrative whipping of Gatcan", said Renato Usatii.

The Border Police has confirmed that Gatcan had left Moldova. At about 17.30 hrs on Wednesday he crossed the border with Romania together with his wife and children. Gatcan's private car, on which he came to the Parliament on Wednesday morning, is remaining at the parliamentary parking lot.