IGOR DODON SAYS ONLY WAY TO OVERCOME POLITICAL CRISIS TO HOLD SNAP POLLS
03 july, 2020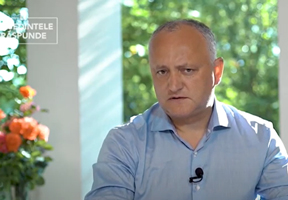 The only way to overcome the current political crisis is only to hold snap parliamentary polls, President Igor Dodon announced this on Friday during his weekly live communication with citizens.
"There is nothing to be done with this Parliament. Already 17 deputies have been bought. Former Democrats' leader Vladimir Plahotniuc already has about 30 deputies; he wants to enter into power. This is what the bandits do. Firstly, they create problems, and then they propose to solve them. They are now negotiating not only with the right, but also with the Socialists. But there can be no negotiations with bandits. They are like a black sheep with whom no one should communicate", Dodon said.

According to him, "consultations with parliamentary parties are needed to hold early parliamentary elections".

"The majority of the population, who are ashamed of this Parliament, also wants this. It is ideal to conduct elections simultaneously with the presidential election on November 1. The Constitutional Court next week should decide whether this is possible. If not, we need to hold the presidential election, and after them - the dissolution of the Parliament and setting the date of the parliamentary elections", the President stated.

Dodon called on the Pro Moldova group and the Shor Party "not to try to bribe MPs from the Party of Socialists faction".