PARLIAMENT MEETING AGAIN FAILS TO BE HELD FOR LACK OF A QUORUM
03 july, 2020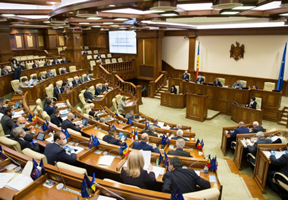 On Friday, a plenary meeting of the Moldovan Parliament failed to be held – again for lack of a quorum. There were only 49 representatives of the Socialist/Democrat coalition, which now constitutes less than a half in the 101-member Parliament of Moldova.
"Well, I see the scenario is repeating. We cannot begin the plenary meeting. I suggest assembling next week. Until then, we will hold a meeting of the Parliament Permanent Bureau to analyze the situation", said Parliament Speaker Zinaida Greceanii.

Representatives of the opposition Party of Action and Solidarity (PAS) and the DA Platform stated they are boycotting the plenary meeting in protest against the Government's intention to adopt 4 laws by assuming responsibility upon itself i.e. without discussing them in the Parliament.

Prime Minister Ion Chicu came for the plenary meeting today to present the laws to the forum. The laws have already been published in the Monitorul Oficial. Though the plenary meeting was not held, coalition deputies exchanged opinions with the Prime Minister.

Speaking on the local television on Thursday night, Premier Chicu threatened to resign, if the Parliament does not assemble once again.