PREMIER CHICU CALLS OPPOSITION TO STOP BLOCKING PARLIAMENT'S ACTIVITY AND LET GOVERNMENT WORK
06 july, 2020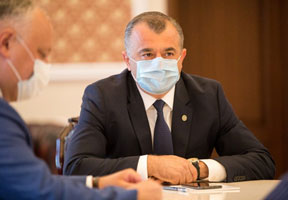 Moldovan Prime Minister Ion Chicu has called the opposition not to block the Parliament's activity and "please let the Government work!" Chicu stated this to the press following his weekly consultations held with President Igor Dodon and Parliament Speaker Zinaida Greceanii every Monday morning.

"The opposition has no legal or other grounds for blockading the Parliament's work. The procedure of adopting laws by the Government's assuming responsibility upon itself is absolutely legal and therefore the opposition has no grounds for preventing the Government from presenting the already adopted laws and to work on", stated Ion Chicu.

He again criticized the opposition's activities, stressing that he meant first and foremost Maia Sandu "and her partner Andrian Candu".

The Premier hopes that the extraordinary plenary meeting of the Moldovan Parliament, scheduled for 14.00 hrs on Monday, will take place.

"If amendments to the State Budget are not approved by the Parliament, Moldova will not receive the European Union's assistance. It was exactly in the same way that Maia Sandu blocked the receiving of the Russian loan [200 million euros]. This proves that they don't care where the assistance comes from – from the East or West. Simply, they want bad for the country", said Ion Chicu.

Party of Action and Solidarity Chairperson Maia Sandu stated earlier that the parliamentary PAS faction was actually ready to vote for the 4 laws proposed by the Government, but on condition that the Government cancels its decision to pass the laws by assuming responsibility on itself and that the 4 documents are presented for Parliament's discussion in a usual parliamentary procedure.

But the Government is refusing to change its decision because there is no majority in the Parliament any more.