PARLIAMENTARY ELECTION MAY NOT BE HELD ON ONE DAY WITH PRESIDENTIAL ELECTION – CONSTITUTIONAL COURT
07 july, 2020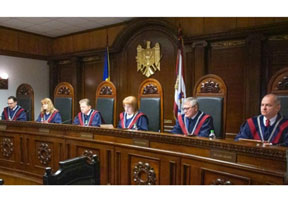 The Moldovan Parliament may not be dissolved in the last 6 months of the presidential mandate, so an early parliamentary election may not be held on one day with a presidential election, the Moldovan Constitutional Court ruled on Tuesday.
Today the Court considered the inquiries of Socialist MP Vasile Bolea – on the possibility of holding presidential and snap parliamentary elections on one day, and the inquiry lodged by PAS MP Sergiu Litvinenco – on the possibility of combining the elections in case of President's resignation and thus to hold early elections of president and parliament.

On all these questions, the Constitutional Court gave negative answers today.

Earlier, President Igor Dodon and the representatives of some political parties spoke out for dissolution of the incumbent Parliament and for holding an early parliamentary election together with the presidential election – on November 1. The opposition representatives maintained that it would be possible if Dodon tenders resignation and if a presidential election would thus be an early election.