PREMIER CHICU URGES MAIA SANDU TO SAY POINT BLANK WHAT SHE DISLIKES IN THE GOVERNMENT-APPROVED LAWS
08 july, 2020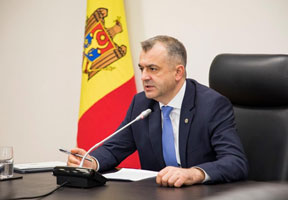 Prime Minister Ion Chicu has continued in social networks his polemics with the Party of Action and Solidarity (PAS) leader, ex-Premier [June to November 2019] Maia Sandu and invited her to say openly which concrete provisions in the laws adopted by the Government under its own responsibility are unacceptable to her Party.
"Politicians make politics, this is their bread. But rank and file citizens have no bread", he wrote on his Facebook page.

"If there are no unacceptable provisions in the said laws, then I suggest that Maia Sandu stops talking against the adoption of the draft law [on amending the 2020 State Budget]. But if the PAS has realistic proposals for improving the Budget, then after the adoption of the Government's urgent bills, I will be ready to discuss the PAS proposals and to make additional amendments", the Premier wrote, stressing that on July 9 morning he will come to the Parliament [for a 4th time in succession] in the hope for Maia Sandu's feeling of responsibility.