IGOR DODON BELIEVES IT IS POSSIBLE TO CREATE BROAD COALITION TO RULE THE COUNTRY UNTIL SNAP ELECTION
10 july, 2020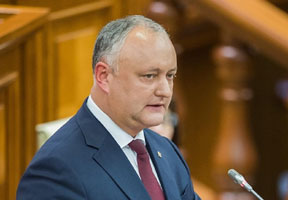 President Igor Dodon presumes it is necessary to create a broad coalition that would be governing the country until the early parliamentary election.

In his weekly online communication with citizens, Dodon said on Friday: "The country needs a snap election, and already a majority of citizens are sharing this opinion. But according to the recent judgment by the Constitutional Court [last Tuesday], a parliamentary election may not take place in 2020. This means that the incumbent Parliament will work for 7-9 more months - until February-March 2021. We have to decide who will be governing the country in that period, and how we should legally achieve dissolution of this Parliament and appointment of a snap election date".

He said that a government resignation is remaining almost the only possibility to provoke an early parliamentary election.

"The Chicu Government shall not tender resignation, as the opposition would wish. If they want this, let them try. I want to see how Maia Sandu will undersign and vote no confidence in the Government together with the deputies of oligarch Vladimir Plahotniuc [PMP] and Ilan Sor's embezzlers of a billion U.S. dollars from Moldovan banks. Such voting would mean a political death for the Right parties. But anyhow, let them try. It would be only advantageous to us", said the President.

In his opinion, a reasonable decision would be to form a broad coalition of parties: "We can reach an agreement on forming a broad coalition of the Party of Socialists, the Democratic Party, the PAS of Maia Sandu and the DA Platform of Andrei Nastase. We reach an accord, form a coalition government, isolate bandits and oligarchs from power and organize presidential election and later on - an early parliamentary election".

He said that PAS deputies and Pro Moldova group deputies are discussing how to remove Igor Dodon from participation in the forthcoming presidential election.

"I haven't yet decided concerning my running for the President, but they are already shivering. I am not sure that Maia Sandu is aware of these negotiations held behind her back. She stands up for a fair election, but her party colleagues are flirting with oligarchs. I would like to hear the USA's and European Union's opinions on this", said Igor Dodon.