DA PLATFORM IS DISCONTENTED THAT PAS IS SO SLOW ABOUT ESSENTIAL DECISION
14 july, 2020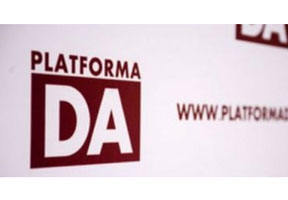 The political party called Platform "Demnitate si Adevar" [DA, "Dignity and Justice"] is discontented that the Party of Action and Solidarity would not show readiness to sign the draft of a parliamentary Resolution on expressing a vote of no confidence in the Ion Chicu Government and that it will discuss the essential issue as late as next weekend. DA Platform Deputy Chairman Alexandru Slusari stated in this connection that the PAS "is simply killing time".

"Such position looks wrong to me. We should bear in mind that the document on a vote of no confidence must not simply be signed – there is yet a procedure of submitting it. This initiative must be put up for a parliament plenary meeting and considered next week. If the PAS takes its decision as late as on July 18, we will be able to submit the document to the Parliament only next week at best. And the Parliament may consider it in a week or even two weeks after that", said Alexandru Slusari.

Meanwhile, an official decision on accomplishing the forum's Spring-Summer Session may be taken already next week.

"In such case, the importance of the PAS decision may be equal to zero because if we put forward the vote of no confidence at the Session's final plenary meeting, subsequently its importance will evaporate. I am surprised about such a decision of our colleagues. We don't want to look for deputies' signatures in other factions [PMP and Ilan Sor Party]. We want the vote be signed only by the deputies of the former ACUM bloc", stated the DA Platform Deputy Chairman.

He reminded that the draft of a parliamentary Resolution on a vote of no confidence has already been prepared and that the DA Platform Political Bureau has authorized DA deputies to sign this 10-page document.

Honorable Chairman of the Democratic Party Dumitru Diacov, who heads the parliamentary DPM faction, stated on the local television on Monday night that there had been no negotiations whatever.

"We can talk, discuss, exchange opinions, but this cannot be called negotiations. There are no serious negotiations because there were no serious proposals. To vote for dismissal of the Chicu Government, we have to know the candidacy of a new premier and the personal composition of a new government. But there is nothing of this. And we have no confidence that after the removal of the Chicu Government, a new Cabinet of Ministers will be approved. Who can guarantee that the Pro Moldova group will vote for approving a new Cabinet? What for should Andrian Candu want to have a new Government of the DA Platform?" wondered Dumitru Diacov.