DEPUTIES OF FORMER ACUM BLOC SUBMIT DRAFT RESOLUTION ON VOTE OF NO CONFIDENCE IN GOVERNMENT
16 july, 2020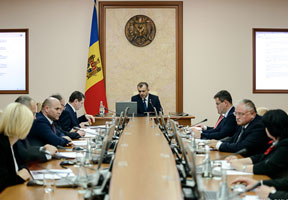 Opposition deputies from the former ACUM bloc parties have submitted to the Parliament their draft of a parliamentary Resolution on a vote of no confidence in the Government of Premier Ion Chicu. The document was signed by 26 MPs from the DA Platform party and the Party of Action and Solidarity (PAS).

Presenting the draft, DA faction leader and Parliament Deputy Speaker Alexandru Slusari stated that the Chicu Government violated the Constitution, exceeded its powers, tried to substitute the Parliament by adopting laws all by itself in detour of the Parliament as is prescribed by the Constitution and as the Constitutional Court had confirmed.

Slusari reminded of the CC judgment on annulment of the Agreement signed with Russia on supplying a 200-million-euro loan to Moldova.

"The Government is managing the epidemiological and economic situations extremely badly. The measures it has proposed are not assistance to businesses and citizens but are 'a shock without a therapy'. Many economy sectors are now on the brink of bankruptcy", said Alexandru Slusari.

The presented draft Resolution reads also that the Government is sabotaging relations with the European Union, and this has led to losing the third 30-million-euro tranche of the EU macro-financial assistance.

"This Government wages an inconsistent foreign policy devoid of predictability or logics. It ignores the strategic partnership with the European Union and with our neighbor countries and orients exclusively to Eurasian integration, substituting European cooperation with collaboration with the CIS and the Eurasian Economic Union", stated the Deputy Speaker.

The draft Resolution on a vote of no confidence in the Government was signed by 26 deputies of the PAS and DA factions. They declined the support offered to them by the Pro Moldova group and the Ilan Sor Party, having emphasized their unwillingness to deal with the deputies having a relation to the one-billion-dollar bank fraud.

The no-confidence question is to be considered by the Parliament at its next week's first plenary meeting. For a government dismissal, a minimum of 51 votes is needed in the 101-member Parliament of Moldova.