CIVIL CONGRESS CONSIDERS PRESIDENTIAL ELECTIONS IN MOLDOVA JUST QUESTION OF EMPLOYMENT FOR SANDU OR DODON
03 september, 2020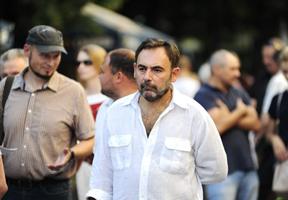 "The so-called presidential elections in Moldova are the matter of personal employment of Maia Sandu or Igor Dodon for one vacant position. After all, they will not go to work in school as teachers after a stellar premiership and a royal presidency." This opinion was expressed by a member of the executive committee of the "Civic Congress" Marc Tcaciuc on Facebook on Wednesday.
He wonders, "why do all the other citizens of Moldova need these elections, first of all, those who are going to participate in these elections as throat-tearing fans, giving the only thing left - their own votes?"

"What changes will happen in the lives of Moldovan citizens when they help Dodon or Sandu to find the coveted job? What can they promise us that they have not yet promised? Is there anything left that was not promised? Or at least something fulfilled? Well, let's hear once again how great everything would have been if Dodon hadn't interfered with Sandu, and Vladimir Plahotniuc hadn't gotten in the way of Igor Dodon's. What can they guarantee us?" Tkaciuc wonders, considering the President of Moldova "a decorative doll."

He expressed indignation that the president "cannot even dissolve the bandit parliament - the Constitution does not allow it."

"It is a rare case when national elections have nothing to do with the people themselves. These choices are wasted time, resources thrown to the wind, emotions and new disappointments. It is also aggression, from which a long, lasting hangover! All the steam - in the whistle! Why Sandu and Dodon need these elections is clear. But why should everyone else need these elections?" The politician asks.