IGOR DODON PRESENTS HIS VISION OF FORTHCOMING ELECTION CAMPAIGN
10 september, 2020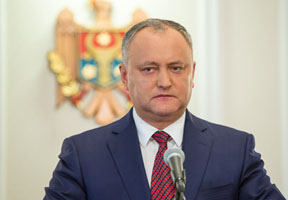 Speaking on the local television on Wednesday night, President Igor Dodon presented his vision of the forthcoming election campaign and its peculiarities.
"This is going to be a very specific campaign due to the coronavirus pandemic. Large assemblies with voters have been prohibited, so I will be meeting with a limited number of people, but will be holding 10-15 such meetings a day", said Igor Dodon.

The President stated he would not take part in traditional public pre-election debates: "I see no point in such debates on the television, at any rate – in the first election round. As for the second round, well, we'll see".

Igor Dodon said he had decided also not to use big advertizing panels and billboards in the campaign, for "I don't think it is appropriate to waste money on such things in a situation when the people have to save on everything".

Dodon particularly stressed: "I stand for an honest election campaign. For this period, I shall not be using my office car and I shall be correct in my actions and sayings to a maximum-possible extent. As I am standing for a second term of office, this campaign will be the last possibility for my opponents to struggle against me".

Igor Dodon strongly criticized Party of Action and Solidarity (PAS) Chairperson Maia Sandu, whom he regards to be his main and, perhaps, only real opponent in the campaign. He named as "gibberish" her assertions that Igor Dodon is allegedly ready to pay 2 million euros for the transportation of Transnistrian voters, having the Moldovan citizenship, over to polling stations on the right Dniester River side.

"That sounded so rude and humiliating with respect to Moldova citizens residing in Transnistria. Why on earth does she think that her electorate is incorruptible and honest, whereas Transnistrians are unscrupulous and corrupt?" wondered the President.

Igor Dodon presumes that he may, theoretically, win already in the first election round, but is also ready for struggle against Maia Sandu in the second round.

"If there is a second round, it is clear to everyone already now who the finalists will be. I am sure that I can win a convincing victory. In 2016, I outstripped my opponent [Maia Sandu] by 60-70 thousand ballots [actually – 67,488]. This year, the gap will be 100-120 thousand", presumes Igor Dodon.