IGOR DODON STATES THAT THERE SHALL BE NO GOVERNMENT RESIGNATION BEFORE PRESIDENTIAL ELECTION
17 september, 2020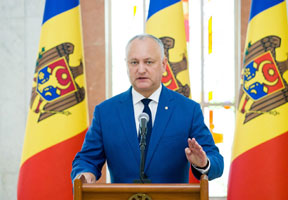 Moldova President Igor Dodon has assured the country that until the presidential election [November 1], there shall be no resignation of the Premier Chicu Government.

Speaking on the Prime television channel on Wednesday night, Dodon said: "I want to calm all those people who are speculating about the Government resignation question: at least until the end of the presidential campaign, the Chicu Government shall not go away. That's it! No other Cabinet would manage the country governance job better than Chicu's team. So, this Government is remaining. But after the presidential election, there may be various scenarios".

Touching on the incumbent Parliament, Igor Dodon said: "This is a non-representative forum. It does not reflect voters' opinion, and therefore it must be dissolved".

Commenting on this week's sayings by Honorable Chairman of the Democratic Party MP Dumitru Diacov, who said that there are people in the DPM who stand up for the Party's quitting the governing coalition [with Socialists], Igor Dodon said that "In the Party of Socialists [PSRM], too, there are people discontented with the current alliance with the DPM".

"Some members of the PSRM leadership believe it would be good to revise some things. May I remind that we formed the coalition with the Democratic Party when the PSRM had 37 parliamentary mandates and the DPM – 23. So, we had 60 deputies altogether [in the 101-member Parliament], and certain plenary powers were distributed accordingly. It is my conviction that the stability of state power must be preserved – at least until the presidential election completion", stated Igor Dodon.