JUSTICE MINISTER MAINTAINS THAT CONSTITUTIONAL COURT'S DECISION IS AN IMPEDIMENT TO JUDICIARY REFORM AND TO MOLDOVA'S INTERNATIONAL COMMITMENTS
23 september, 2020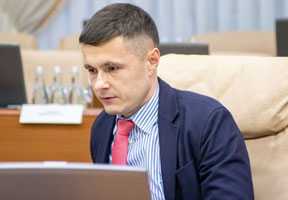 Moldova's Minister of Justice Fadei Nagacevschi is convinced that the recent decision by the Constitutional Court (which declined the draft amendments to the Main Law prepared by the Government) is in fact blocking the Moldovan justice reform and is an impediment to fulfilling Moldova's commitments to its development partners.
The Minister told a press briefing on Tuesday that the amendments were drafted on the basis of Venice Commission recommendations, were agreed upon with the Commission, and were to become the basis of the judiciary reform in Moldova.

"As for the Court's statement that draft amendments differed from the ones approved by the Government in January 2020, I should remark here that the Constitutional Court could contact the Government at any moment and ask, but that was not done, which seems suspicious to me. It remains a puzzle for me why the Court took its decision only now, in September, in a pre-election period i.e. 3 months after our address to it", said Nagacevschi.

In his words, "The Constitutional Court has recognized as ones contradicting to the Constitution the amendment provisions on ceasing the plenary powers of Superior Council of Magistracy Members from the academia [according to the draft, their mandates come to an end immediately upon the amendments' coming into force – unlike the representatives of the judiciary corps]".

"But this norm was included into the draft already after an agreement with Venice Commission and European Union representatives. And by blockading that legal norm, Moldova's commitments to the Venice Commission and the EU are automatically blocked as well. The draft amendments, which were sent to the Constitutional Court, had been agreed upon with the Venice Commission to the last coma", stated the Minister of Justice.

Fadei Nagacevschi stressed that the introduction of the amendments to the Constitution is one of the conditions of the Memorandum for Moldova's receiving a second tranche of the EU macro-financial assistance, and the Memorandum clearly says that the amendments must be approved in full accordance with the Venice Commission's recommendations.

Minister Nagacevschi said that he has already informed the Venice Commission about the developments here, and on Wednesday, September 23, he will fly to Strasbourg to discuss the situation.