IRI POLL: MAIA SANDU OUTSTRIPPING IGOR DODON BY VOTERS' PREFERENCES RATING
25 september, 2020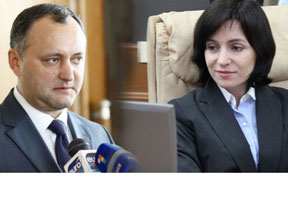 If a presidential election were held in Moldova next Sunday, 20% voters would cast their ballots for Party of Action and Solidarity (PAS) Chairperson Maia Sandu, and 18% -- for incumbent President Igor Dodon, as per the findings of an opinion poll carried out by the International Republican Institute (IRI) last July 16 through August 23.
7% respondents would vote for Our Party leader Renato Usatii, 4% -- for Ex-President of Moldova Vladimir Voronin, Chairman of the Communist Party [though neither he nor his Party are taking part in this election campaign], 3% -- for DA Platform leader Andrei Nastase, and also 3% -- for Democratic Party Chairman Pavel Filip, who is not running for president, either.

All the rest presidential candidates would poll not more than 1-2%. And 33% of the interviewed citizens were yet uncertain in their political preferences or stated they would not go to the polls.

Among Chisinau respondents alone, Maia Sandu's chances are yet higher – 25%, against Igor Dodon's 16%. And, naturally, the highest probability to be elected to the second round is also with this duet of candidates namely 42% with Dodon and 41% with Maia Sandu.

In the opinion of 53% respondents, the nomination of one common candidate from opposition forces would well raise the opposition's chances for a victory in the presidential election.

The opinion research was carried out by making random telephone calls to anonymous citizens. It covered 2,017 people. The pollsters are saying the error should not be in the excess of ±2.5%.