MAIA SANDU EXPECTS "NUMEROUS FAKE INFORMATION INFLOWS" AGAINST HER IN NEAREST DAYS
16 octomber, 2020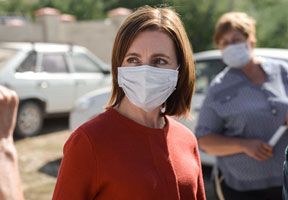 Party of Action and Solidarity (PAS) Chairperson and presidential candidate Maia Sandu has stated in her video address in the social networks on Friday that in the nearest days she is expecting massive inflows of fake information against her.
She began her address from an announcement that in the nearest days and weeks "citizens will be hearing horrible things and incredible fakes about me".

"If you hear that I am going to close down churches or that I have changed my sexual orientation, or that I am an agent of aliens or masons, or that I will establish a state border along the Dniester River – please know that all these are lies coming from Igor Dodon's advisers", stated Maia Sandu.

In her words, Moldova is traditionally entering into the dirtiest stage of an election campaign.