OPINION POLL FINDINGS SUGGEST THAT SANDU MAY DEFEAT DODON IN SECOND ROUND
20 octomber, 2020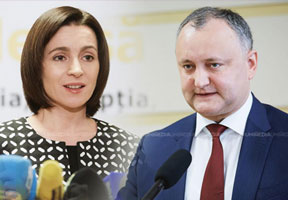 Party of Action and Solidarity (PAS) Chairperson Maia Sandu may defeat Moldova's incumbent President Igor Dodon in the second round of the next month's presidential election, as per the findings of the opinion poll carried out recently by the CBS-AXA Center for Sociological Researches and Marketing by the order of non-governmental organization WatchDog.md.

17% respondents expressed an intention to vote for incumbent president Dodon, 13.3% -- for Maia Sandu, followed by Renato Usatii of Our Party (6%), Violeta Ivanov of the Sor Party (1.6%), and Octavian Ticu of the National Unity Party (PUN).

Only 1.1% respondents were ready to vote each for Andrei Nastase of the DA Platform party and for Dorin Chirtoaca of the voting bloc Unirea, and 0.1% -- for candidate Tudor Deliu of the Liberal Democratic Party.

And 33.7% respondents said that they are going to take part in the election, but have not decided yet who they will vote for.

If the second round of the election is contested by Igor Dodon and Maia Sandu, then the PAS leader may win with 29.2% against 25.9%. However, yet another 11% interviewed citizens said that if these two politicians become election finalists, they will not go to the polls on November 14, 18.3% said they would go by all means, but have not decided yet whom to vote for, and 15.7% were uncertain.

If the second round is contested by Dodon and Usatii, the results will be 23.5% against 22%; if Dodon and Nastase – 26.8% against 18.1%; if Sandu and Usatii – 26.9% against 19.1%; if Sandu and Nastase – 28.7% against 8.5%; if Nastase and Usatii – 14.6% against 23.3%.

The opinion poll was carried out by making random telephone calls on October 10 through 17. It covered 1,001 citizens eligible to vote. The pollsters are saying the error should not be in the excess of ±3.1%.