EU AMBASSADOR PETER MICHALKO CONCERNED ABOUT ATTACKS AGAINST CIVIL SOCIETY AND MEDIA
22 octomber, 2020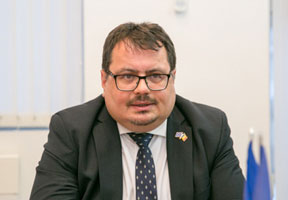 Ambassador Peter Michalko, the Head of the European Union Delegation to the Republic of Moldova, has expressed concern about the attacks against Moldovan civil society and the independent mass media. The diplomat wrote on his Facebook page that he is "alarmed with the rough, unfounded and malicious attacks against the civil society and the independent media in Moldova".
"For any state, which considers itself to be democratic and up-to-date, a powerful and dynamic civil society and independent media are elements ensuring progress, development and transparency", wrote Peter Michalko.

The diplomat believes that non-governmental organizations bring much use to Republic of Moldova citizens and are important partners to the authorities.

"Such attacks cause doubt concerning the political commitment to the cause of supporting a favorable environment for civil society development – an essential component of the realization of the EU-Moldova Association Agreement", wrote Peter Michalko.

The EU Ambassador's reaction followed after the Wednesday's statement made by Socialist MP Bogdan Tardea, who accused Moldovan non-governmental organizations and some mass media of their promoting the interests of the West, which finances these organizations, as well as of their supporting Moldovan pro-European politicians and parties.

So far, there has been no reaction of the Moldovan Government to this regard, which circumstance was pointed out by Iulian Groza, Director of Institute for European Policies and Reforms (IPRE), who expressed gratitude to Ambassador Michalko for the support the European Union renders to the Moldovan civil society and non-governmental organizations.

"I was expecting that our Government and Parliament would be among the first ones to react to the attacks against the civil society and the media", said Iulian Groza.

In his words, the IPRE's annual contributions to the Moldovan State Budget in the period of 2015-2019 (plus the first 10 months of 2020) constituted 7.8 million lei. "This means that from the means received from our development partners, the IPRE contributes to the State Budget an average of 120 thousand lei a month", said Iulian Groza.