MAIA SANDU AND IGOR DODON TO CONTINUE STRUGGLE IN SECOND ROUND
02 november, 2020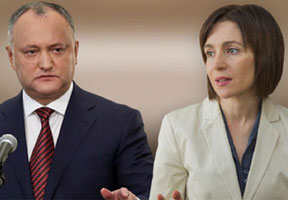 On November 15, struggle for the Moldovan presidential post will be continued in the second round of elections by the country's former Prime Minister, Chairwoman and presidential candidate of the Party of Action and Solidarity (PAS) Maia Sandu and the incumbent President of Moldova, independent candidate Igor Dodon, as per the preliminary results of November 1 polls after the processing of 99.95% voting protocols from 2142-of-2143 polling stations.
According to these data, Maia Sandu has polled 36.15% ballots, while Igor Dodon – 32.62%. After the calculation of votes from 95% polling stations, Dodon was leading with an approximately same advantage, but early in the morning the result cardinally changed. That became possible upon the arrival of results from 139 polling stations in foreign countries that were visited by more than 1149 thousand Moldova citizens i.e. over 10% voters. An overwhelming majority of them cast their ballots for Maia Sandu, who won also in 4-of-5 Chisinau sectors.

The 3rd position was won by Our Party leader Renato Usatii, the Mayor of the country's second-largest city of Balti, with 16.9%. The 4th was Violeta Ivanov of the Sor Party with 6.49%; 5th – DA Platform leader Andrei Nastase with 3.26%; 6th – Octavian Ticu of the National Unity Party (PUN) with 2.01% ; 7th – Tudor Deliu of the Liberal Democratic Party with 1.37%; and 8th – Dorin Chirtoaca of the voting bloc Unirea (Unification) with 1.2%.

The election was attended by nearly 1,347 thousand people or about 43% registered voters. The election was recognized as valid yet before Sunday evening, when the Central Election Commission registered the law-stipulated threshold for that – a voter turnout of 33.33% plus 1 voter.

The second round will take place on November 15, when there will be no voter turnout requirement.