INCUMBENT PRESIDENT IGOR DODON IS READY TO TRANSFER POWER TO ELECTED PRESIDENT MAIA SANDU
20 november, 2020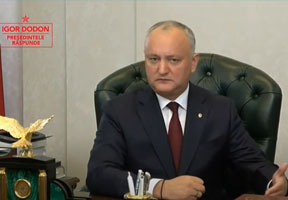 The current President, Igor Dodon, is ready to transfer power to the elected President Maia Sandu. He said this on Friday during his weekly live communication with citizens on social networks.

"There is an elected president, whom I have already congratulated - Maia Sandu. Now it is necessary to implement a civilized transfer of power. I have already ordered that the Foreign Ministry's Protocol Service, which is preparing the inauguration procedure, should contact Sandu to agree on the date and details of her inauguration. My term as president expires on December 23 and understand that the inauguration of the new president will take place on December 24-25," Dodon stated.

The official noted that he appealed to the court and the Central Election Commission regarding violations in the second round of elections.

"I did this not to challenge the election results, but to fix these violations - the organized transport of voters, etc. In order to prevent violations at the next elections, referring, among other things, to the decisions of the courts," the incumbent President stressed.