MAIA SANDU IS SURE SHE WILL MANAGE TO DISSOLVE PARLIAMENT SOON
20 november, 2020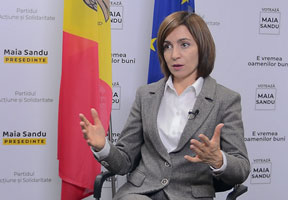 Moldova's President Elect Maia Sandu believes that already in the nearest future she will manage to dissolve the incumbent Moldovan Parliament "by using fully legal means".
In her interview with "The European Truth" publication of Ukraine, Sandu admitted that, really, she cannot dissolve the legislature of her own volition, and "therefore, it is necessary to find a legal way to a snap election".

"The people should receive the right to elect a new parliament because the current one behaved unworthily. We in Moldova have deputies [in the incumbent Parliament] who have changed political parties already three times, though this forum was elected only last year [February 2019]. This is a sign of political corruption", believes the president elect.

Maia Sandu stressed that at any rate it is necessary to abide by the Constitution, which stipulates only two legal reasons for dissolving the Parliament – its inability to adopt laws during 3 months in a row and its failure to approve a new government during 45 days.

"It is my conviction that in the nearest future these constitutional norms will give me a possibility to dissolve the Parliament, and Moldova will hold an snap election", stated Maia Sandu.