INAUGURATION OF THE NEW PRESIDENT WILL BE HELD ON DECEMBER 24 - MAIA SANDU
30 november, 2020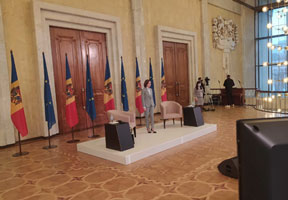 The inauguration of the new President of Moldova will take place on December 24. The President-elect, Maia Sandu, said this at her first press conference, which she held on Monday.

"The inauguration will take place on December 24 at the Palace of the Republic. Due to the pandemic, the inauguration will be held in an abridged version," Sandu stated.

She stressed that "the broadcast of the inauguration ceremony will be carried out on television and on the Internet."

During the press conference, Sandu also noted that "most likely, the first official visit will take place in Ukraine in early 2021." "Prior to that, in the first weeks of January, the President of Romania Klaus Iohannis will pay an official visit to Chisinau."

Sandu noted she could not provide many details about her team yet. At the same time, she said that Minister of health in the Sandu Government Ala Nemercenco will serve as adviser on social and health issues. Also, the former justice minister, Olesea Stamate, is to be presidential adviser on the justice issues. Economist (former minister of finance in the cabinet of Vlad Filat) Veaceslav Negruta will take over the position of presidential adviser on economy.