​EDUCATION MINISTRY AWARDS BEST TEACHERS OF THE YEAR
05 octomber, 2016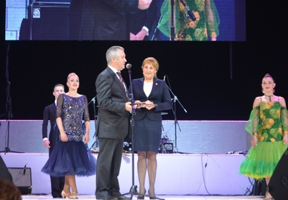 The title Best Teacher 2016 was given to primary school teacher Viorica Morcov from George Calinescu Lyceum of Chisinau.
Also, at the Tuesday's ceremony of honoring best pedagogues, the Education Ministry also awarded best kindergarten educator and best high school teacher.
Educator of Chisinau kindergarten #143 Cristina Apparatu was declared best in the nomination "Educator 2016", while in the nomination "Pedagogue 2016" – teacher of history in Natalia Dadiani Theoretical Lyceum of Chisinau Valentina Boboc.
Winners received diplomas and money prizes.
"Teacher's goal is to teach pupils, should help them to make correct choice, teach them to be ready for any situations", said Minister of Education Corina Fusu said at the awarding ceremony.
The contest "Teacher of the Year" is conducted by the Education Minister for the 10th consecutive year.
In total, there are over 42 thousand pedagogues in Moldova, 12.5 thousand of which are working in the pre-school system, more than 29.5 thousand – in primary and secondary education, over 4.2 thousand – in the vocational education. Over 5.3 thousand pedagogues are working in the higher education system.
I do believe that by not being a part of a solution you may also allow yourself to stay away from the problem. Especially when your trying to find a solution for people who never thought there was a problem to begin with.
http://historicarmouries.com.au/