​PHOTOS OF MOLDOVAN VILLAGE IN POSTWAR TIME EXHIBITED IN GERMANY
30 december, 2016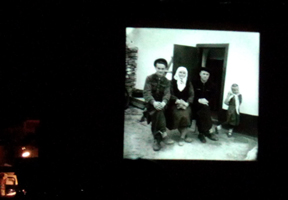 A vernissage of unique photos about the life of Moldovan village in post-war time took place in Panda-theater in Berlin.
For the first time black-and-white portraits and group photos of people at wedding, birthday, holiday parties, as well as at funerals have been presented. Also, there were pictures of landscapes and the locality with elements of architecture and ethnography. These photos have been taken within the period of 1950 through 1970 by amateur photographer Zaharia Cusnir in villages Rosietici, Rogojeni, Cenusa and Tira in Floresti raion.
Professor and expert in photography Nicolae Pojoga said to special Infotag correspondent in Berlin that negatives, accidentally found in an abandoned house in Rosietici village, where the photographer had lived, can without exaggeration be regarded as national heritage, as they documentarily depict daily life of ordinary people from that time, without censorship or pathos.
"This finding is a great luck not only for Moldova, but for the entire post-Soviet space. These photos are rare evidences of post-war life. We managed to restore only a small part of almost 3800 found negatives", Pojoga said.
The photo-presentation was replenished with a documentary film of a young film director Victor Galusca "Who loves and leaves", which demonstrates the entire drama of Moldovan village fate. The short film was shot in Rosietici village and recently has been presented in Chisinau at the international festival ClassFest.
Pojoga hopes that the Moldovan audience will get the possibility to see a full collection of unique photos already in 2017. Together with Galusca, he founded a public association of photo-archives and photo-documents ADOF, which is engaged in rehabilitation of negatives.
"This is quite costly and time-taking process. We have to buy expensive equipment and special software, because the negatives are strongly damaged", Pojoga said.
According to him, besides exhibition in Chisinau, the association is planning to hold exhibitions in villages, where photos have been taken, as well as to publish a book. ADOF is also collecting data on biography of photographer Zaharia Cusnir.
Infotag's dossier: The premier exhibition was organized by nongovernmental organization "Dekabristen e.V." and the branch office of Romanian Cultural Institute in Berlin.