MOLDOVAN EXPERTS TO TAKE PART IN INVESTIGATING PLANE CRASH IN COTE D'IVOIRE
16 octomber, 2017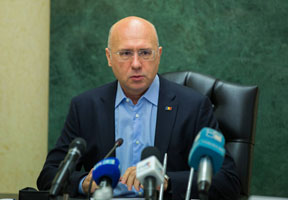 A group of Moldovan aviation experts will arrive in Cote d'Ivoire later on Monday to take part, jointly with the local air authorities, in investigating the reasons and circumstances of the plane crash that took away the lives of 4 Moldova citizens: crew captain Eugene Litovca (63), co-pilot Alexander Shikanov (30), flight engineer Pavel Besedin and Dmitrii Melniciuc.

On Monday, Prime Minister Pavel Filip convoked an emergency meeting of the Crisis Center he formed specially for handling the air catastrophe, which heard the latest information presented by Deputy Director of the National Civil aviation Organ Nicolae Buzu.

According to him, the Moldova-owned Antonov 26-100 airplane, employed for transporting cargoes against a contract signed with the French armed forces, was preparing to land in the Abidjan airport on Saturday morning but failed to manage the last 500 meters to the landing strip in adverse weather conditions (heavy thunder storm), broke up into two pieces at a height of about 220 meters and fell down into Atlantic waters. There were 10 people on board, including 6 Moldovans. Four of them died and two were rescued. They are in the hospital and are recovering.

Buzu said the air vessel was thoroughly checked as recently as in 2017 and was in a good technical condition. At the accident moment, its electronic and other equipment was working in a perfect order. The crew members were highly experienced specialists in terms of both aviation machinery and of the knowledge of and experience in local work conditions.

Moldova's Deputy Premier, Minister of Foreign Affairs and European Integration Andrei Galbur said the Ministry has established contacts with the Cote d'Ivoire authorities through the Moldovan Embassy in Paris and the Romanian Embassy in Senegal.

"We are in constant touch with the local and French authorities, following the situation and the condition of our citizens who suffered during the catastrophe. The survivors are under the care of the French army in a French military hospital", said Andrei Galbur.

Premier Filip demanded to do everything necessary to deliver the deceased and survivors home. He requested to stay in constant touch with the families of the Moldovan pilots to supply them with latest information and advice.

Infotag's dossier: The airplane belonged to the Valan International Cargo Charter of Moldova, whose air fleet consists of three Antonov planes and eight Mi-8 helicopters. The company specializes in transporting cargoes, people and humanitarian assistance for numerous foreign customers, including the United Nations, the USAID, the World Food Program (WFP), the Department for International Development (DFID) of Great Britain and other. Valan-owned air vessels fly in Afghanistan, Sudan, Chad and other conflict zones.

The plane concerned was built in 1975, and in 2005 it underwent a complete overhaul in Ukraine. It was chartered by the French Army for cargo transportation within the framework of the anti-jihad "Barkhan" operation.