NEW DEFENSE MINISTER SAYS THAT ARMED FORCES ARE COMMANDED BY THE PEOPLE
25 octomber, 2017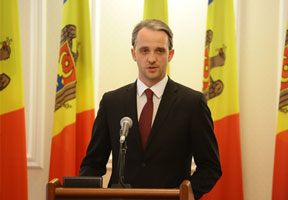 Moldova's new Minister of Defense Eugen Sturza stated after the swearing-in ceremony that "the army's supreme commander-in-chief is the people of Moldova, and the army must be on the service of the Motherland and its citizens".

Sturza voiced pity that he had been appointed by inventing and using a special procedure, after his candidacy had been twice rejected by President Igor Dodon.

"I hope there will be no more such instances of violation of the Constitution. I know what complicated tasks and objectives are standing before the Ministry of Defense and before the armed forces. Moldova must get transformed from a consumer of security into a supplier of security for this entire region of Europe", stated the minister.

Sturza stated he is counting on international cooperation "that has suffered due to such long absence of a minister and due to the prohibitions to participate in international military exercisers".

Eugen Sturza stressed the Moldovan army needs modernization and re-equipment with up-to-date weaponry and military machines. He spoke out for an in-depth reform of the armed forces that need to be placed on a professional basis, "and of course it is very important to prevent involvement of the armed forces into political games".