ENTIRE POWER SYSTEM IS INVOLVED IN CONCEALING BRAGUTA MURDER - CIVIL ACTIVIST
26 octomber, 2017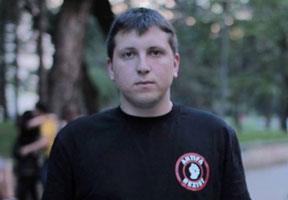 Civil activist Pavel Grigorciuc (who was twice held criminally liable over the last three years for anti-governmental acts), maintains that all the power system - starting from the Ministry of the Interior to prison doctors - were involved in the case on concealing the murder of Andrei Braguta.

Commenting on the video recording of severe and repeated beating of Braguta by his cellmates, published in internet, he wrote in Facebook that guards in corridor could not help but knowing what is happening in the cell.

"Video cameras are installed only in temporary detention center in the General Police Inspectorate for preventing any beatings there. The officer on duty at entrance sits and watches what is happening in cells and if police officers closed their eyes on beatings, this was their deliberate choice", said "Our Home is Moldova" member.

He maintains that a man was murdered because the entire system is vicious: starting from police officers, who did not see psychic deviations in Braguta's behavior, prosecutors who cooked up a case against mental patient, judges, who knew about the psychical condition of the accused, but still sent him instead of psychiatric hospital to death in pretrial prison, prison doctors, who issued false conclusion about death allegedly from pneumonia and, in conclusion, the pro-state journalists.

"The latter tried to justify the murder by inadequate behavior of mentally sick person, detained for as much as speeding", Grigorciuc said.

The civil activist, accused on the case of riots in front of Prosecutor General's Office, maintains that the entire system - starting from the Ministry of the Interior, justice institutions, the penitentiary system, doctors who took Hippocratic Oath, judges, all of them, instead of monitoring the law abidance, are violating it.

"Braguta murder demonstrated the Moldovan society that the entire state system has rot through so much that people who work in it lost the feeling of humanity and morals. Tomorrow, any other person may come in place of Braguta. This become clear back after the murder of Sorin Paciu [businessman, killed at a hunt in late 2012], in which justice system higher officials were involved. Five years have passed and since then the situation has only aggravated", Grigorciuc said.

Braguta was detained on August 15 for speeding. After the arrest, he was brought to the Republican narcological dispensary for examination. He refused to undergo the examination and behaved aggressively against officers. On August 18, the court placed Braguta under 30-day administrative arrest in Chisinau pretrial prison #13. Ambulance teams have been several times called to Braguta due to his inadequate behavior. Medics classified this as affective state. There is information that he was beaten by his cellmates, who got tired of his aggressive behavior. After another incident, he was brought in the hospital of the prison #16 (Pruncul), but died upon the arrival. According to local doctors, Braguta died of pneumonia complications.