JUSTICE MINISTRY PREPARES BILL ON DE-CRIMINALIZING ECONOMIC OFFENSES
01 november, 2017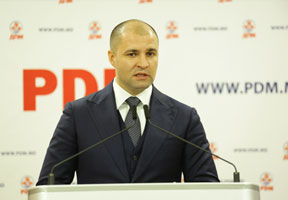 The Ministry of Justice prepared for public debates a draft law, which implies de-criminalizing of a number of economic offenses, said Minister Vladimir Cebotari after Tuesday's sitting of the Democratic Party leadership.

According to him, the document is directed to reducing the state pressure on entrepreneurs, which should lead to improvement of economic situation in the country, the growth of the number of workplaces and tax fees.

The minister explained that the draft law implies transmitting of powers on establishing economic offenses from police and the National Anti-Corruption Center to profile controlling agencies, among which the Tax Service and the National Food Safety Agency.

"Economic agents not all the time commit offenses from malicious intent, very often these are just a result of ordinary mistakes. The tax service may conclude the violation and if no violent actions have been admitted, the entrepreneur will be proposed to repair the damage and pay the fine", Cebotari said.

He said that the draft law is also directed to revision of measures on arresting economic agents. Thus, measures on arrest will be applied only in case of violations that imply minimum five years, when currently this term is of 3 years.

Democrat minister invited all the interested sides to take part in open debates on the draft to prepare it for discussions in the Parliament within the next several weeks.